What is the STEAM Lab?
The STEAM Lab on our Primary Campus is a specially designed and resourced space where students take on problems or challenges which integrate areas of Science, Technology, Engineering, the Arts and Mathematics.
Using a Five Stage approach which we call Ask, Imagine, Plan, Create and Improve, special projects are designed to encourage students to take calculated and thoughtful risks, learn through experiences, tackle and persist when problem-solving, build communication and collaboration skills and explore creative possibilities for thinking and presenting.
Across the year levels the students have addressed a wide variety of activities ranging from investigating gears and inclined planes with Moving Monkeys and Marble Tracks (Year 1); Designing and building Polar Enclosures (Year 2); video recording using a blue screen (Years 3 and 6); designing and constructing a Class Pet Dinosaur (Year 4) and designing and building a multi-level tree house suitable for a Lego man (Year 5).
Why are we STEAMing our Students?
Through the projects the students not only learn the valuable technology and design processes but also some life lessons such as the place of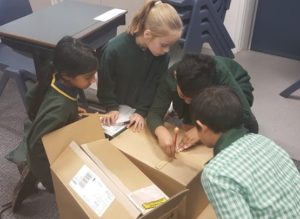 genuine planning, limits to resources, self-evaluation and coping with limited success. Real world issues are scaled and addressed in an environment of exploration, creativity and safety to help build the investigators and producers of tomorrow.