Our Year 4 students embrace a real camping experience at Moreton Island Wilderness Camp situated on Moreton Island. The activities in brief include: bush walking,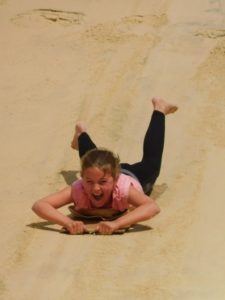 beach activities, campfire, exploring military sites, sand boarding, swimming, 4WD safari tour, star gazing and  picnic lunch.
Students must rise to the occasion in having to plan, pack and preparing them to overcome the challenges that they must face during the camp.
The Moreton Island Wilderness Camp provides all of the food, facilities and accommodation. The accommodation is of a high standard with permanent tent structures.  The camp runs over three days and two nights.