Our Year 5 students participate in an engaging Young Leaders Program, focusing on Personal Leadership. The sessions are aimed at developing Christ-likeness, confidence, character and citizenship in our students.
The four building blocks of the Young Leaders Program are:
Presentation Skills – speak out
Responsibility – be accountable
Organisation – plan ahead
Teamwork – work together
Students are selected to fulfil various leadership roles within our Primary School including: Primary School Captains and Vice-Captains, Student Representatives,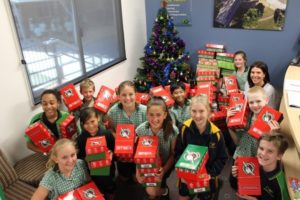 Sport House Captains and Vice-Captains.
Our Student Representatives are responsible for planning, promoting, managing fundraising events for various humanitarian causes throughout the year. They are also involved in developing initiatives that build up the school community and across the primary school years.
Our Year 6 students will have other opportunities in serving the school community by being on rosters for worship setup and pack down and daily flag rising.